25 September 2023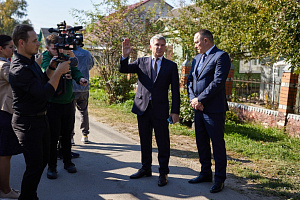 On 22 September 2023, General Director of Rosseti Centre, PJSC and Rosseti Centre and Volga region, PJSC Igor Makovskiy worked in the Bryansk region.
On streets of Bryansk, the head of the Companies assessed the progress of activities on the street lighting modernization project, which involves replacing more than 12.5 thousand lighting fixtures, and also talked with citizens. He noted that after the end of the energy service contract, new light spots will appear on 819 streets of the regional capital, including not only central, but also remote, very small streets.
By the end of the year, thanks to this project, Bryansk will become the most illuminated city in the Central Federal District and one of the "lightest" in the country. Residents highly appreciated the efforts of the power engineers and thanked them for their attention to the current needs of the city.
At the site of Bryanskelectro, part of the Rosseti Centre group, Igor Makovskiy held a meeting with the team, thanked the workers for their dedicated work, paying special attention to actions in border areas in conditions of increased risks.
Continuing the topic, military medical specialists conducted a practical lesson on tactical medicine for the workers.
"Currently, the Bryansk branch faces a number of important tasks, the implementation of which determines the reliability of energy supply to the region's residents. At the same time, our absolute goal is to preserve the life and health of our employees. We are doing everything in our power to reduce risks by ensuring the protection of workers in the performance of their labour duties," noted Igor Makovskiy.