7 August 2023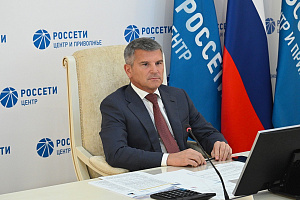 As part of the operational meeting, General Director of Rosseti Centre, PJSC and Rosseti Centre and Volga region, PJSC Igor Makovskiy considered the issues of activities of territorial grid organizations included in the branches of the Companies.
It was noted that the consolidation of the power grid complex is carried out in the interests of the region and end consumers. Work in this area is performed systematically, within the framework of the Development Strategy approved by the Government of the Russian Federation.
Directors of the Bryansk, Voronezh, Ivanovo, Tula and Yaroslavl branches of the energy company emphasized in their reports that on the eve of the autumn-winter period, the resources of the combined company make it possible to quickly cope with possible violations and significantly reduce the time to restore power supply.
"The introduction of unified management principles, as well as the requirements of technical and operational policies, makes it possible to ensure the fulfillment of applications for connecting new facilities to grids in a shorter time, promptly eliminate technological violations, and, as a result, improve the quality of power supply to residents of 20 Russian regions," stressed General Director of Rosseti Centre - the managing organization of Rosseti Centre and Volga region Igor Makovskiy.