3 August 2023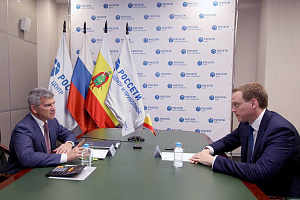 Governor of the Ryazan Region Pavel Malkov and General Director of Rosseti Centre, PJSC - the managing organization of Rosseti Centre and Volga region, PJSC Igor Makovskiy held a working meeting at the site of the 10th Professional Collegium of the Companies and presented regional and corporate awards to power engineers.
Awards of Governor of the Ryazan Region were presented to six employees. For a great personal contribution to the development of the fuel and energy complex and many years of conscientious work, awards from PJSC Rosseti were received by seven employees of the Companies. Nine other employees also received corporate awards from the head of the energy company for achieving high performance.
"The energy complex is rightfully considered one of the strategic sectors of the country's economy. It is difficult to overestimate the importance of the work of our specialists, whose tireless work creates the energy of heat and light, bringing comfort and coziness to people's homes. The strengthening of the country's industrial potential and the work of socially significant enterprises largely depend on your professionalism, competence and experience. Thank you very much for your work!" stressed Igor Makovskiy.
Governor Pavel Malkov thanked the management and employees of the company for productive joint work. Addressing the audience, he noted that the Ryazan region has a great experience of interaction with the company.
"The grid facilities are consistently reconstructed in the region. There is technical re-equipment, repair work is carried out. We implement development projects. New facilities are connected to the grids. In 2023 alone, these will be two industrial parks and pharmaceutical enterprises. A number of medical institutions, several schools and kindergartens. We expect that the areas of our cooperation will only expand," Governor said. Pavel Malkov emphasized that professionalism, a high level of responsibility - these qualities distinguish employees of Rosseti.