3 August 2023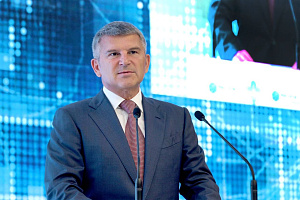 Igor Makovskiy, General Director of Rosseti Centre, PJSC - the managing organization of Rosseti Centre and Volga region, PJSC, opened the semi-annual Collegium, which gathered in Ryazan more than 150 heads of the executive office, security unit and branches of the Companies, as well as leaders of Youth Councils and chiefs of Distribution Zones. More than 18,000 people joined the online meeting of the 10th anniversary Collegium.
The main agenda of the event is summing up the results of activities of the companies' branches for the first half of 2023 and updating work plans for the second half of the year.
Igor Makovskiy stressed that today the power engineers work in conditions of higher risks associated with an increased external threat not only in the border areas, but throughout the Central Federal District. That is why the tasks of ensuring the safety of personnel and protecting the facilities of the power grid complex come to the fore.
At the same time, the strategic goals of the Companies to reduce losses, increase non-tariff revenue and labour productivity remain unchanged. Only the methods of achieving them are corrected, for which advanced domestic technologies and developments are being introduced into work at an accelerated pace.
"Thanks to the timely and consistent implementation of the planned activities, the introduction of innovations, the modernization and development of our infrastructure, we have certainly maintained the quality and reliability of electricity supply to consumers in the first half of 2023. Along with this, we pay special attention to the safety of employees, the most valuable thing is the life and health of our people," stated Igor Makovskiy.