25 July 2023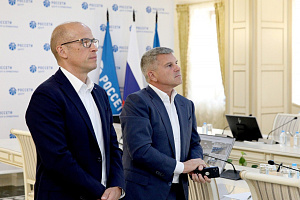 On 25 July, in Moscow, Head of the Udmurt Republic, Alexander Brechalov, discussed with Igor Makovskiy, General Director of Rosseti Centre, PJSC - the managing organization of Rosseti Centre and Volga region, PJSC, measures to develop the region's energy complex and prepare for the heating season.
The head of the energy companies noted that Udmurtenergo increased investments in the maintenance and repairs of the electric grid facilities of Udmurtia by 46% compared to 2022, and investments - by almost 60%.
An important topic of the meeting was the issues of connecting the subjects of the Special Economic Zone of Izhevsk and Glazov to grids, as well as the modernization of street lighting systems in settlements of the republic, including a large-scale project in the capital of the region.
"Our most important task is high-quality and timely preparation for the passage of the autumn-winter period to ensure the reliability of power supply to residents and enterprises of the region. Along with this, together with the Government of Udmurtia, we are implementing large-scale projects aimed at developing the electric grid complex and creating a favourable investment climate in the republic," emphasized Igor Makovskiy, General Director of the Companies.
Head of Udmurtia Alexander Brechalov. "The key principle of work of Rosseti Centre and Volga region is high social responsibility, and the main priority is uninterrupted customer service. Already twice this month a thunderstorm front passed through the republic, which led to disruptions in the operation of grids. But thanks to the professional and well-coordinated work of the company's specialists, the power supply to our cities and villages was restored in the shortest possible time. I am glad that I had the opportunity to personally thank the company's management for the selfless work of the power engineers in the region".