19 July 2023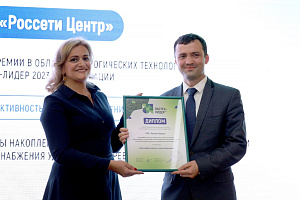 On 19 July 2023, winners of the National Prize in the field of environmental technologies "ECOTECH - LEADER 2023" were awarded. In the nomination "Energy Efficiency and Energy Saving", the winner was the Rosseti Centre company with the project of a block-modular system for storing electricity.
The development is designed to supply electricity to settlements with a small number of residents located far from the main power centres. The storage device is a completely Russian product that has no analogues in neighbouring countries. The system has already shown itself well in operation: for more than a year it has been providing autonomous power supply to residents of the village of Osipovo in the Staritsky district of the Tver region.
"The use of modern technologies in our activities allows the company to develop, reduce losses, improve the quality and reliability of power supply. We are successfully introducing the latest domestic products into the work of the power grid complex, and the award received is a confirmation of this," stressed Igor Makovskiy, General Director of Rosseti Centre, PJSC - the managing organization of Rosseti Centre and Volga region, PJSC.