13 July 2023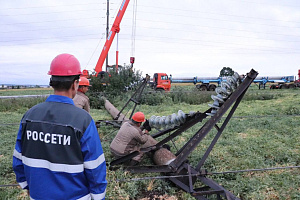 On 12 July, a hurricane with showers, thunderstorms and squally winds with gusts of up to 20 m/s passed through the territory of the Republic of Udmurtia. Power grid facilities were damaged, power supply failures occurred.
Power engineers of Rosseti Centre and Volga region, PJSC - Udmurtenergo mobilized all forces and means in advance to combat the consequences of the disaster. A special mode of operation was introduced at the branch, operational Headquarters were deployed, information exchange with the regional division of the Ministry of Emergency Situations was organized, interaction with municipal authorities, regional and federal departments was strengthened, additional resources were attracted to receive and process residents' calls.
302 people and 127 highly passable vehicles immediately began to restore power supply - a total of 69 crews. 11 standby sources with a total capacity of 1,060 kW were used. In addition to the forces of the Udmurt branch of the energy company, the work was carried out by specialists from Kirovenergo and Marienergo.
"Udmurtenergo got prepared in advance for the impact of the elements and for the fact that restoration work would have to be carried out in difficult conditions, at night. First of all, socially significant facilities were taken under special control, the continuity of their work was ensured. Interdepartmental interaction and well-established communication with consumers helped the power engineers in the fight against the consequences of the disaster. Thanks to all these measures, we promptly fulfilled our duty by ensuring the supply of electricity to the homes of residents of Udmurtia," stressed Igor Makovskiy, General Director of Rosseti Centre, PJSC - the managing organization of Rosseti Centre and Volga region, PJSC.