12 July 2023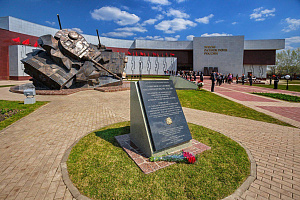 On 12 July 1943, the largest tank battle in the history of the Great Patriotic War took place near Prokhorovka. It became the culmination of the Battle of Kursk, a turning point on the road to victory.
On the eve of the solemn date, power engineers of the branch of Rosseti Centre, PJSC - Belgorodenergo paid special attention to the functioning of the facilities on which the reliability of the power supply of the memorial complex on the Prokhorovka battlefield depends.
Thermal imaging control was carried out, unscheduled inspections and checks of lines and substations were carried out, outdoor lighting fixtures were revised and replaced, and backup power supply schemes were developed. Directly on 12 July, the duty of operational crews was organized.
Power engineers from 20 regions, where Rosseti Centre and Rosseti Centre and Volga region operate, repeatedly visited the memorial to pay tribute to the memory of tank heroes.
"The battle on the Prokhorovka field was decisive in the Battle of Kursk and will forever remain in our history the most important step towards the Great Victory. The memorial complex of the same name was created in memory of the feat of the front-line soldiers who defeated the enemy and fell on the battlefields. This symbol of resilience and courage today is the pride of our national culture. We, power engineers, as true citizens and patriots of our country, are doing everything in our power to ensure that its beauty and grandeur leave awe and pride in our Motherland in the hearts of the people who visited it," emphasized General Director of Rosseti Centre and Rosseti Centre and Volga region Igor Makovskiy.