6 June 2023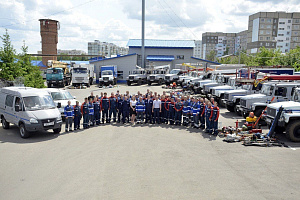 On behalf of Igor Makovskiy, General Director of Rosseti Centre, PJSC and Rosseti Centre and Volga region, PJSC, the Interbranch Finals of professional skill competitions for employees of the Companies' service sales unit began in Suzdal of the Vladimir region. Over 100 participants from 20 regions of the energy company's service areas will compete for the title of the best in electricity metering and loss optimization for 4 days.
The teams have to go through several stages: to test their knowledge in the field of labour protection and safety, to identify facts of non-metered electricity consumption using a virtual simulator, to evaluate availability for work and replace billing metering devices on training benches, to install a cabinet of the data collection and transmission device, to carry out commissioning. In the "Pyramid Seti" software package, power engineers will determine indicators of reliability and quality of electricity and restore remote data collection. In the field, specialists will check relevance of 0.4 kV pole circuits and balance groups, identify malfunctions of metering devices and facts of interference in their work.
"Reducing electricity losses to the technical level is one of the strategic goals of our company. Professional skill competitions brought together the best specialists in this area, and I am sure that they will become an effective platform for exchange of experience and joint solution of tasks we face," stressed Igor Makovskiy.