5 June 2023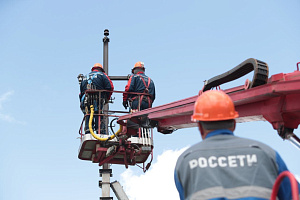 The thunderstorm front that passed from the middle of the day on 3 June in the territory of the Vladimir, Voronezh, Ivanovo, Kirov, Kostroma, Lipetsk, Nizhny Novgorod, Ryazan, Smolensk regions and the Republic of Udmurtia caused technological disruptions in the operation of power grid facilities.
Measures to restore power supply to consumers in the Vladimir and Kostroma regions, where the energy complex has suffered the most significant damage, have been completed.
In total, 299 crews consisting of 918 company's specialists and 347 specialized vehicles were involved in emergency recovery work in the regions.
The situation in each branch of the company was controlled by the operational headquarters, information was exchanged with the territorial divisions of the Ministry of Emergency Situations and executive authorities, and the operational and meteorological situation in the regions was monitored. A special control over the operation of power facilities was established.
You can report power failures and noticed damage to power facilities by calling the Unified Contact Centre of Rosseti at 8-800-220-0-220 (free of charge/around the clock).