2 June 2023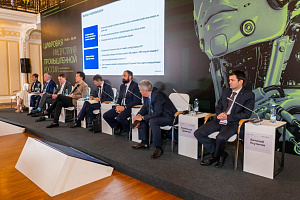 On behalf of Igor Makovskiy, General Director of Rosseti Centre and Rosseti Centre and Volga region, representatives of the companies made expert presentations at the "Digital Industry of Industrial Russia" conference in Nizhny Novgorod.
Vitaly Akulichev, Deputy General Director for Digital Transformation of Rosseti Centre, became a speaker at the session of the Russian Ministry of Energy – "Formation of the landscape of domestic industrial IT solutions to achieve technological independence".
Today, Rosseti Centre and Rosseti Centre and Volga region are going through the stage of active import substitution of IT systems and their transfer to the common information space. The main task of this stage is the description and standardization of business processes, which will allow eliminating duplicate functions, redundant approval steps and creating optimal schemes for the operation of the target automated system of enterprises.
"The unified IT architecture, which we have been actively creating in recent years, involves a range of projects – from the introduction of remote control technologies for power facilities to expanding the package of mobile services for our consumers. This helps to improve the reliability, efficiency and safety of the power grid complex in 20 regions of the central part of Russia," stressed Igor Makovskiy.