23 January 2023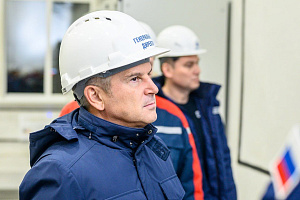 As a reminder, as part of a working trip to the Bryansk region, Igor Makovskiy held a working meeting with Governor Alexander Bogomaz, and also checked the work of the Klimovsky Distribution Zone of Bryanskenergo.
Traction substations of the Bryansk trolleybus fleets No. 4 and No. 5 also became the key objects of the working meetings of the head of the energy companies.
The Bryansk power engineers reconstructed 4 traction substations of the Municipal Unitary Enterprise "Bryansk Trolleybus Administration". The electrical part of the facility was completely replaced: traction transformers, switches, rectifiers, switchgear and control gear, auxiliary switchboard and other equipment, as well as construction units of the buildings. In order not to disturb the landscape in the city centre, more than 30 km of cable lines were laid by horizontal directional drilling. The work was carried out practically without taking the substations out of operation and with minimal restrictions on the movement of trolleybus transport in the Sovetsky and Bezhitsky districts of the city of Bryansk.
"The company has carried out a really great and unique work for us as part of the implementation of the infrastructure project of the Bryansk region "Modernization of urban public transport". And I would like to thank the team of the Bryansk power engineers for fulfilling all the obligations assigned to us, regardless of external influences," stressed Igor Makovskiy, General Director of Rosseti Centre and Rosseti Centre and Volga region.