28 June 2022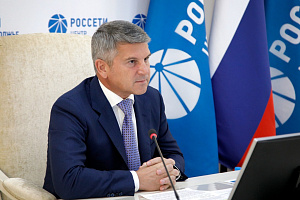 On 27 June, Igor Makovskiy, General Director of Rosseti Centre, PJSC - the managing organization of Rosseti Centre and Volga region, PJSC, held an operational meeting. One of the issues was the fulfillment of the strategic goals of the Companies in the direction of additional services.
The head of the energy companies emphasized that the Companies achieved good results in the framework of the provision of services to support grid connection. Branches of Rosseti Centre for the first 5 months of 2022 approached the mark of 45 percent, Rosseti Centre and Volga region exceeded 34 percent of the market coverage for this service.
It was noted that these indicators will become the basis for fulfilling the tasks of increasing non-tariff revenues of the companies in the current year.
"In addition to such a task as supporting the grid connection, as part of the provision of additional services, power engineers have vast experience in implementing large-scale projects for the modernization and construction of street and road lighting networks, for architectural lighting of buildings and cultural monuments, and festive decoration of cities. Their implementation enhances the safety and quality of life of residents of the regions, improves mood, and attracts tourists," stressed Igor Makovskiy.