16 June 2022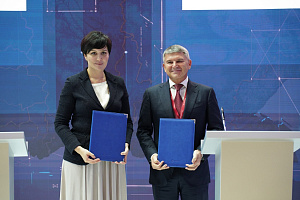 Today, 16 June 2022, at the site of the 25th St. Petersburg International Economic Forum, the head of the Agency for Strategic Initiatives Svetlana Chupsheva and General Director of Rosseti Centre, PJSC - the managing organization of Rosseti Centre and Volga region, PJSC Igor Makovskiy signed a cooperation agreement.
The agreement is aimed at forming measures to support the sustainable economic and social development of the regions through the further implementation of the industrial tourism program in their territories.
"The main subject of the agreement is partnership in the field of industrial tourism and the implementation of solutions developed by ASI, which allow enterprises to form a policy of openness, create new career guidance programs and popular tourism products," Svetlana Chupsheva emphasized.
Please, be reminded that Rosseti Centre, PJSC has been participating in the Acceleration Program for the Development of Industrial Tourism, organized by ASI, since August last year.
To date, excursion tours are already being held at power facilities of branches of Rosseti Centre and Rosseti Centre and Volga region - Kalugaenergo, Kurskenergo and Nizhnovenergo. On excursions, guests are introduced to the process of generating electricity, the operation of electrical facilities and the profession of an electrical engineer.
The agreement signed by the heads of the organizations is the next step in cooperation. The purpose of the implementation of new joint projects will be to increase the competitiveness of domestic industrial brands, create an effective career guidance system for schoolchildren and students, as well as build industry links between specialists from Russian enterprises.
"As part of our cooperation with ASI, we have already introduced the industrial tourism program into the agenda of our daily work. Today, this type of activity is becoming an important element of the socio-economic development of the regions, helping to increase their investment attractiveness, while helping to more effectively solve the problem of building the company's image and finding new channels of communication with consumers," stressed Igor Makovskiy after signing the agreement.