16 June 2022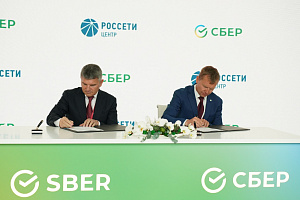 Deputy Chairman of the Management Board of Sberbank Anatoly Popov and General Director of Rosseti Centre, PJSC - the managing organization of Rosseti Centre and Volga region, PJSC Igor Makovskiy, within the framework of the St. Petersburg International Economic Forum on 16 June 2022, signed a cooperation agreement on development of the speech analytics software.
In 2020, Rosseti Centre, together with Sberbank, launched a pilot project for the implementation of a robot operator, an automated intelligent voice agent with speech recognition to inform about upcoming scheduled outages.
The signed agreement provides for the development and implementation of measures to further improve the service, as a result of which consumers will be provided with prompt access to the necessary information presented in a simple and understandable form.
"High-quality interaction with consumers is an important area in the work of Rosseti Centre and Rosseti Centre and Volga region, which provide electricity to 25 million people. The launch of the robot operator made it possible to reduce the waiting time on the line, increase the speed of alerting consumers and reduce the labour costs of the staff. This technology is completely domestic, so we can and will develop it to raise the information support of our work to a new, even higher level," Igor Makovskiy emphasized.
"The availability of technologies using artificial intelligence today is the key to the dynamic and modern development of the company. Sber, as one of the leaders in the use of AI in Russia, is ready to share its experience in this area. At the same time, we will be happy to study and use the achievements of our partners in the field of artificial intelligence. This is the work that will help us move in this direction. I am confident that cooperation with Rosseti Centre will be mutually beneficial and fruitful," stressed Anatoly Popov.