7 June 2022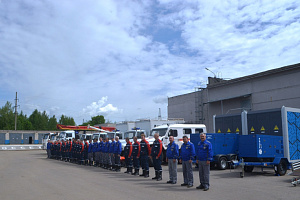 Tverenergo re-certified the employees of the professional emergency rescue team (PERT) of Rosseti Centre for the title of "Rescuer". The PERT team worthily passed several test stages, demonstrating deep theoretical knowledge in matters of professional training and high results in physical training.
At the end of the event, the PERT specialists quickly extinguished the fire, removed the "victim" from under the fallen pole using a hydraulic tool, and then provided him with first aid.
The examiners - employees of the Main Directorate of the Ministry of Emergency Situations of Russia for the Tver Region, noted the excellent training of the workers of the professional emergency rescue team, as well as the full equipping of the PERT with special vehicles and tools.
"Our professional activity is often associated with work in emergency situations. A person's life may depend on how well the skills and coherence of the actions of power engineers-rescuers are worked out. That is why regular training and certification by emergency rescue teams is so important: we must be ready not only to ensure the reliability of power supply, but also, if necessary, promptly come to the rescue," stressed General Director of Rosseti Centre, PJSC - the managing organization of Rosseti Centre and the Volga region, PJSC Igor Makovskiy.