15 September 2021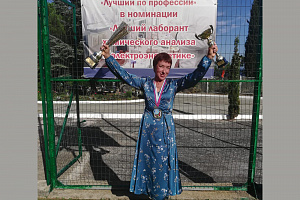 According to the results of the federal stage of the All-Russian competition of professional skills "Best in Profession", Natalia Golikova, an employee of Rosseti Centre and Volga region - Tulenergo, took the first place in the nomination "Best Laboratory Assistant for Chemical Analysis in the Electric Power Industry". She showed the best result in her category — 339 points out of 340 possible.
In total, 44 employees from 27 Russian companies of the fuel and energy complex and the country's metallurgical industry fought for the victory.
The competition was held from 6 to 10 September this year in the city of Alushta (Republic of Crimea). It was organized by the Ministry of Labour of the Russian Federation with the support of the Ministry of Energy of the Russian Federation, as well as the All-Russian Electric Trade Union and the ERA of Russia Association.
General Director of Rosseti Centre and Rosseti Centre and Volga region Igor Makovskiy in the videoconferencing format congratulated Natalia Golikova, announced the award of the Certificate of Honour and wished her professional success.
"We constantly pay special attention to the professional development of personnel and try to create all conditions for the growth of employees' competencies. The victory in the All-Russian competition of our specialist once again proved the correctness of this approach. I congratulate Natalia Golikova and the Tulenergo branch on this victory," the head of the energy companies noted.