12 July 2021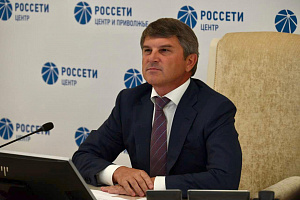 General Director of Rosseti Centre and Rosseti Center and Volga Region, within the framework of the weekly operational meeting, heard the report of Chief Engineer of the companies on the implementation of the Zero Injury Program and gave a number of instructions to improve control over laboгr protection of the Companies' employees.
To date, the branches are implementing a set of measures aimed at reducing the threat of accidents. In particular, an algorithm has been introduced for an operative risk assessment before work is carried out, the number of on-site inspections in the companies' divisions has been increased, a training for a group of specialists who will play the role of "Zero Injury Coaches" has been organized, and an anonymous survey was conducted among employees on the topic of labour safety.
The head of the energy companies drew particular attention to the need to introduce mechanisms for effective staff motivation, which will change the way of thinking and move to a new level of production culture.
Also, within the framework of the meeting, employees were awarded with gold and silver honorary signs of the companies. In total, 18 employees of Rosseti Centre were awarded for their great personal contribution to the reliable operation of the power system, high professionalism, long-term and conscientious work.
"The most valuable thing in our companies is people. While maintaining the safety and health of our staff, we do not forget about those who put their heart and soul into their work. I want to congratulate those whose professionalism, striving to achieve the goal, high responsibility contribute to the successful solution of the tasks facing us. Thank you for your loyalty to your profession, for your honest and dignified attitude to your business, for your indifference and responsibility!" stressed Igor Makovskiy, General Director of Rosseti Centre and Rosseti Center and Volga Region.