16 June 2021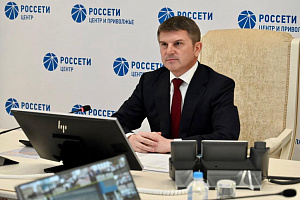 General Director of Rosseti Centre and Rosseti Center and Volga Region, within the framework of the weekly meeting, set a number of tasks for the management of the branches to prevent the spread of COVID-19. These activities are due to the increase in the number of sick residents in a number of regions of the Company's operational responsibility.
The head of the energy companies paid special attention to the organization of dispatch personnel shifts. He noted the need to create conditions for a non-contact mode of work for employees responsible for operational and technological management.
Also, during the meeting, they dwelt in detail on the conduct of voluntary vaccination. In a number of branches, the proportion of employees who have been vaccinated has already reached 40%, and every day the number of those wishing to protect themselves from the virus is only growing.
"Protecting the life and health of our employees is our main and constant priority. This is especially true in the current situation. Today we have mobilized all resources to solve this problem. Depending on the epidemiological situation in a particular region, we have organized the possibility of working remotely.
And for those personnel who remain on duty, all conditions have been created to minimize the risks of contracting coronavirus infection. In addition, we provide an additional paid day of rest for employees who have decided to get vaccinated," stressed Igor Makovskiy, General Director of Rosseti Centre — the managing organization of Rosseti Center and Volga Region.