20 April 2021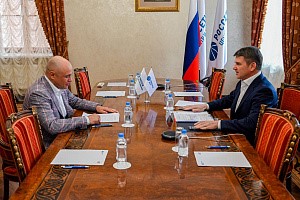 Head of Rosseti Centre and Governor of the Lipetsk Region discussed the preliminary results of passing the autumn-winter maximum load, preparation for the new heating period.
As the head of the energy company noted, Lipetskenergo's employees are qualitatively improving the indicators of reliability and safety of power supply to residents of the region. Even against the background of the growth of dangerous meteorological phenomena last winter, the number of technological violations in the power grids in the service area of the branch significantly decreased. Also, the power engineers carried out all the necessary flood control measures and preparations for the fire-hazardous period in advance. By the next autumn-winter period, Lipetskenergo plans to repair more than 322 km of 0.4-110 kV overhead power lines, 64 package transformer substations and 7 power transformers of 35-110 kV.
The meeting also discussed the program for development of street lighting networks in Lipetsk.
«The modernization of outdoor lighting will have an undeniable positive effect on the city. This will not only contribute to an increase in the level of safety and comfort of residents and guests of the regional centre, but also reduce energy consumption and costs of the municipality for paying for electricity,» stressed Igor Makovskiy, General Director of Rosseti Centre.
«Today, the region is implementing a number of major activities related to improvement of the urban environment and implementation of national projects. The construction of schools, the connection of new agricultural enterprises, the improvement of territories — all this requires close interaction and constructive dialogue. We see Rosseti Centre as a responsible partner capable of meeting the growing needs of the region's economy,» stressed Igor Artamonov, Head of the Lipetsk Region Administration.