11 November 2014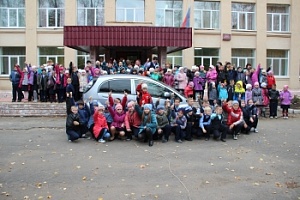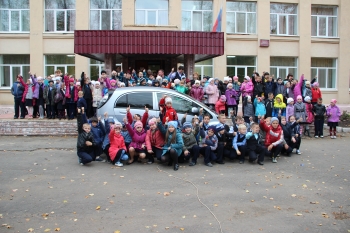 On the International Energy Efficiency Day, November 11, the large-scale project "Motor rally of energy efficiency" completed in the Orel region, in which power engineers of IDGC of Centre - Orelenergo division conducted energy conservation lessons in regional schools. More than 2,500 schoolchildren from 24 schools in the Orel region were participants in the project.
The main purpose of the Motor rally of energy efficiency was popularizing among children principles of energy conservation and telling about energy-efficient technologies. An electric vehicle was used as a transportation means in the rally. The children were demonstrated the device functionality and environmental friendliness of the car, and also given the opportunity to ride on it. Employees of IDGC of Centre - Orelenergo division in details told the schoolchildren about energy efficient technologies, fuel saving, environmental impact of this type of transport.
"Energy conservation plays an important role not only in production but also in the life of every family. The main objective of the energy efficiency of the motor rally is teaching the younger generation to save electricity since childhood," stressed Deputy General Director of IDGC of Centre - Orelenergo division director Muhammad Bogatirev.
From the beginning of the project, launched on 6 October, the electric car drove 1,098 km. To cover this way the electric car took only 192 kW of power for the amount of 654 rubles. For comparison: for a car equipped with an internal combustion engine the cost would be 110 litres of petrol in the amount of 3,733 rubles. As for its saving the electric vehicle surpassed its petrol counterpart by 5.7 times. Furthermore, the advantage of the electric vehicle is in its environmental friendliness - compared with the conventional vehicle emissions are reduced by 95 kg of carbon dioxide (CO2), 2 kg of carbon monoxide (CO) and 65 g of nitrogen oxides, which is 10 times more dangerous than carbon monoxide.
"Skills for energy conservation should be instilled at an early age. To succeed in this endeavor you need to think big, continuously to improve knowledge of economical use of energy resources. Orel power engineers try to diversify energy efficiency classes, bring something new and really interesting to children at them. The electric vehicle in this respect was a real find - it aroused great interest not only of children but also adults," thinks Chief Engineer of IDGC of Centre - Orelenergo division Igor Kolubanov.