27 August 2014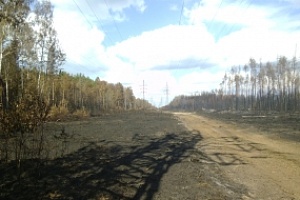 IDGC of Centre - Tverenergo division cancelled the special operation mode. This decision was made by the operational headquarters of the branch in connection with the abolition of the state of emergency (disaster), which was in force in the territory of the Tver region from August 6, 2014, due to the hard fire hazard situation. At the moment the energy system of the Tver region works steadily. The branch operates with the regular power supply circuit.
According to the FSO "Avialesookhrana", since the beginning of the fire season 209 wildfires occurred on lands of the Tver woodland, and in Kalininsky and Konakovsky districts of the region four forest and peat fires were recorded that covered an area of 133 hectares.
In that situation the power engineers of the Tver branch of IDGC of Centre took all necessary measures in order to ensure the smooth functioning of the regional power grid. Tverenergo organized the operational headquarters, which interacted with the territorial office of EMERCOM and district administrations and continuously monitored the situation in hazardous areas for the prediction and prevention of possible risks, disrupting power supply to consumers. The branch set up the around the clock duty of leaders and operational staff, ready in case of possible emergency situations at power facilities to immediately start the repair and restoration work.
Crews of Distribution Zones performed more frequent patrols and inspections of equipment and power lines to prevent transition of those fires. Particular attention was paid to power equipment and substations that supply socially significant facilities. At the electric grid facilities of the region the control over the observance of fire safety measures was strengthened.
Provision of operating personnel and power facilities with protection equipment and special machinery was checked. At the requests of EMERCOM, for extinguishing fires, a number of power lines were forced to be disconnected, ensuring the safety of firefighters, and the power supply to consumers was not interrupted. Consumers were switched to a backup power supply circuit.
At the moment, according to EMERCOM of Russia in the Tver region, in Kalininsky and Konakovsky districts all the sources of fire were completely eliminated. There are no active fires in the region.