5 May 2014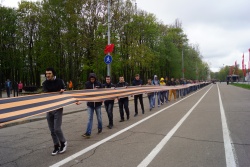 Today the action "Energy of Victory" was held in Smolensk, during which the longest ribbon of St. George in Russia was presented. The event was timed to celebrate the 69th anniversary of Victory in the Great Patriotic War. The event was organized by IDGC of Centre - Smolenskenergo division and the Department of Education, Science and Youth of the Administration of the Smolensk region.
During the action, more than 500 volunteers on the main square of the city stretched a 391-metre St. George ribbon. The record was taken in the presence of numerous media with two methods of measurement: a laser rangefinder and a regular 25-metre tape measure.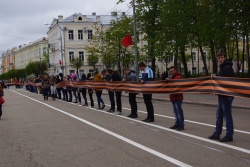 After certification of the record length, volunteers, without breaking the chain, "wrote" with the ribbon "MAY 9" and portrayed the figure of "Stars". Dimensions, synchronicity and mass execution of the graphical shapes hit even frequent participants in the various flash mobs and other large-scale events. The event was attended by more than 500 young people from the staff of the Smolensk branch of IDGC of Centre, student unions, civil society organizations, academic institutions and enterprises of the region.
The length of the St. George ribbon spread out on Lenin Square was 391 metres and became the longest in history. Previous record, recorded by Guinness, is 365 metres. IDGC of Centre - Smolenskenergo division has already sent a primary request to the organizing committee of Guinness World Records, Record Book of Russia, as well as to other similar organizations. In the near future the full evidence base will be collected to confirm the record.
It should be noted that the surface area of ​​the St. George ribbon, stretched at the event, in square millimeters is numerically equal to the population of Russia, together with the Republic of Crimea and the city of Sevastopol.