26 February 2014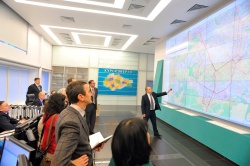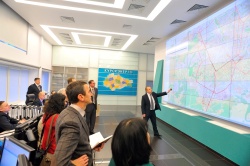 Six 110 kV lines were transferred to the process control by the Grid Control Centre of IDGC of Centre - Kurskenergo division, which were previously under operational management of the Kursk Transmission Control Centre. Control over technological operation modes and operational condition of facilities was transferred under the management of an operator the Grid Control Centre of the branch at 11 o'clock a.m. on February 25.
Up to that point Kurskenergo had 60 lines of 110 kV under process control. Taking over the new high-voltage lines control by the branch will allow to ensure centralized management of distribution networks of 6-35 kV and 110 kV, and will enhance the reliability of power supply of facilities of the Orel-Kursk branch of JSC "Russian Railways" and socially significant facilities in Zolotukhinsky and Ponyrovsky districts of the Kursk region.
The transfer of the new 110 kV lines under the process control by Kurskenergo's Grid Control Centre was preceded by extensive preliminary work on training operating personnel, preparing documentation, software and hardware infrastructure for increased process control. Last week the readiness of the Grid Control Centre to the taking over the 110 kV conductors was checked. A corresponding certificate was signed by a commission composed of representatives of IDGC of Centre - Kurskenergo division, a branch of JSC "SO UES" ODU of Centre, and a branch of JSC "SO UES" Kursk TCC.
"The measures taken have improved the system of interaction of energy enterprises at technological failures in the power grid of the Kursk region and reduced the time to eliminate consequences that will significantly increase the level of reliability and safety of consumers in the region," stressed Deputy Chief Engineer for operational and technological control - Head of the Grid Control Centre of IDGC of Centre - Kurskenergo division Dmitry Martemyanov.