13 February 2014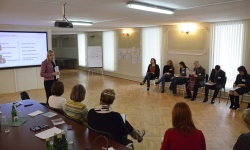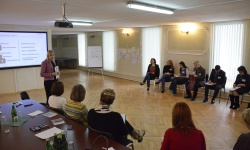 IDGC of Centre has started implementing a training program aimed at developing management and sales skills with the company's employees involved in customer relationship. As part of this work in the first quarter of 2014 an educational seminar was organized for them, the first phase of which was held at the Tambov branch of IDGC of Centre in the first week of February. During the training the staff of customer departments of the company's branches got additional knowledge and skills on the topics "Principles of management" and "Motivating staff".
As noted by the Head of Customer Interaction Department of IDGC of Centre Anna Korneychuk, the seminar program was developed specifically for the company's employees. "The number of requests of consumers in IDGC of Centre to be provided with additional services grows, so it is important for specialists working with customers to have skills building effective communication, to be able to use individual approach in each case. This is what the organized training for them is aimed at, during which they will get to know the best practices in this area," she stressed.
According to participants of the training, it proved extremely useful for them in terms of the acquisition of practical skills.
"Most of all I remember master classes organized within the seminar. They provide a good opportunity to learn the skills and techniques of business communications, share experiences and ideas with colleagues from other branches," noted the head of customer interaction section of Smolenskenergo Tatiana Antonyuk.
"These workshops are part of the development of personality, they contribute to creating some favourable psychological climate in the team. After all, the ability to find contact with people is important not only for customer interaction, but also for partnerships within the team," thinks the head of the Customer Service Centre of Voronezhenergo Elena Nemirovich-Danchenko.
The second phase of training sessions will be held in March. During it specialists of IDGC of Centre will get new knowledge on the topics "Customer relationship" and "Mentoring in sales".