22 January 2014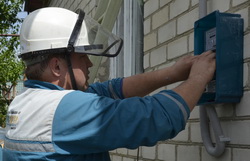 IDGC of Centre — Tambovenergo division summed up the implementation in 2013 of measures to curb non-metered and non-contractual electricity consumption in the Tambov region.
During a large-scale raid performed by the staff of Distribution Zones and office of electricity metering in conjunction with security specialists of the branch more than 1,500 cases of illegal consumption were uncovered. The total volume of the identified non-contractual and non-metered electricity consumption in the service area of Tambovenergo in 2013 exceeded 12 million kWh, the damage amounted to about 24 million rubles.
Particular attention was given to work with problem customers. Their check was preceded with thorough preparation and instruction of participants of raids by specialists of Tambovenergo's security subdivision. As part of the investigative activities to participate in the raids officers of the regional FSB and Russian Ministry of Internal Affairs in the Tambov region were involved. The implemented set of measures helped identify the facts of theft of electricity, totalling more than 6 million kWh.
The power engineers took measures to compensate for the damage. By the end of 2013 the unscrupulous consumers had already paid for 224 cases of non-contractual consumption totalling 4.8 million rubles, and for 1,255 cases of non-metered consumption in the amount of about 11.2 million rubles. The remaining debt will be levied from violators as forced, in a judicial procedure, with charging all court costs on perpetrators. Currently, the legal officers of Tambovenergo are performing claims work on 155 most serious facts of non-contractual electricity consumption. For 76 facts on the basis of litigation, the courts ruled to recover non-contractual amounts of electricity consumption from unscrupulous consumers. In addition to the said consumers law enforcement agencies are carrying out inspections pursuant to Art. Art. 144-145 of the Criminal Procedural Code of the Russian Federation in order to make decisions about the initiation of criminal proceedings under Article 165 of the Criminal Code («Causing damage to property by fraud or breach of trust»).
«As a result of illegal connections to power lines the company receives less financial resources, which were planned to be used for the reconstruction of the grid complex, and the commissioning of additional capacity. Such actions are a problem for unfair consumers themselves, since they can lead not only to electrocution, electrical appliances damage, fires, an increase in electricity tariffs, failure of expensive power equipment, but also to lawsuits, and in some cases, criminal cases,» notes the head of the electricity metering office of Tambovenergo Alexey Kuvshinnikov.
Raids to curb cases of illegal grid connection and non-metered electricity consumption are conducted in all branches of IDGC of Centre and other subsidiaries of JSC Russian Grids regularly, within the systematic work, aimed at strengthening control over the implementation of the action plan to reduce the risks of uncontrolled load growth, detection and suppression of non-contractual electricity consumption.