27 December 2013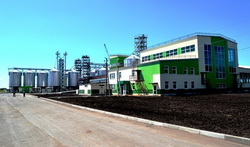 IDGC of Centre — Tambovenergo division has completed grid connection to electric networks of a Muchkapsky seed plant in the Tambov region. This is a unique, unparalleled in Russian agro-industrial enterprise, focused on a complete production cycle — from grain receiving to output of elite seed, equipped with the most advanced foreign equipment and capability to handle a day up to 300 tons of seeds. At full capacity, the plant will be capable to provide farmers with high-quality seeds not only in the region but also in the neighbouring regions of the Central Federal District.
Under the agreement on grid connection the power engineers reconstructed the existing and constructed two new 10 kV power lines from the 110/35/10 kV substation «Muchkapskaya». The total capacity of the connected facility to Tambovenergo's networks is 2.1 MW.
«The development of the agricultural sector is one of the priorities of the economic policy of the Tambov region. Performing grid connection of such a large production facility as the Muchkapsky seed plant, the Tambov power engineers contribute to the development of the region, at a faster pace strengthen its energy infrastructure,» stressed the head of grid connection of IDGC of Centre — Tambovenergo division Roman Stanin.