18 December 2013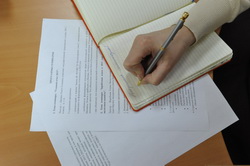 Each year some changes occur in the accounting, and financial and economic specialists need to learn them as quickly as possible.
IDGC of Centre IDGC of Centre organized and trained accountants according to the planned annual program. For this a democratic and effective form was chosen — a seminar, during which all interested persons could ask questions and receive the necessary comments. The classes were conducted by professionals in the field of accounting, the authors of books for finance professionals.
The first part of the course was devoted to the annual report. Specialists of IDGC of Centre learned about the features of the formation of the financial statements this year and practical examples to test their knowledge.
The subject of the second phase of the training was wages. Lecturers clarified and commented regarding compensations, insurance payments and wages. The training program was completed with a seminar on «Income tax and VAT: new and controversial in 2013», during which participants were given the opportunity to learn the changes and discuss their application in practice.
For the first time the training of accountants in the company passed on such a large scale, in this regard, some of the experts expressed their views.
Olga Gerus, chief accountant of the branch — head of the accounting and tax accounting and reporting of Yarenergo:
— This year's training was a remarkable opportunity to talk directly with the professionals at the «round table». In addition, the information was given by the lecturers in an easy and interesting way. We received answers to many specific questions.
Lyudmila Izotova, chief accountant of the branch — head of financial and tax accounting and reporting of Orelenergo:
— The training had positive feedback, as the presented materials fully reflected all the innovations that are expected in accounting. At the seminars we learned what new features the Russian accounting to expect in the future, when we go to work on international financial reporting standards. This information is very useful in the work.