13 November 2013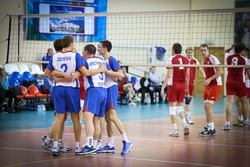 16-17 November 2013 in the universal sports complex «CSKA» the annual «Cup of Energy» in volleyball will be held. 20 teams will compete for the title of the strongest team in the fuel and energy sector, among them — volleyball players of IDGC of Centre.
The event is organized by «Sports Movement of Energy» under the support of the Ministry of Energy of the Russian Federation. Competitions are held in order to promote healthy lifestyle, to make popular and develop corporate sports, team building, strengthening corporate spirit, as well as to create a platform for informal socializing of employees of the fuel and energy complex.
Together with IDGC of Centre the cup series will include: «UNECO», «Kaliningradgasificatsiya», «Irkutsk Oil Company», «NSKE», «INTER RAO UES», «IDGC of South», «FGC UES», «Moscow United Electric Grid», EC «Vostok-Electra», «IES», «MOEK», «IDGC of Northern Caucasus», «Gazprom-neft», «MES of West Siberia», and «GEOTECH Holding».