14 February 2013
52 employees of FGC UES and IDGC Holding, who have successfully passed their qualifying round, will participate in an integrated program of study «Leaders of changes-2». IDGC of Centre will be represented by Deputy Chief Engineer — Head of the Grid Control Centre of IDGC of Centre — Tverenergo division, Candidate of Engineering Sciences Vladislav Ostrik.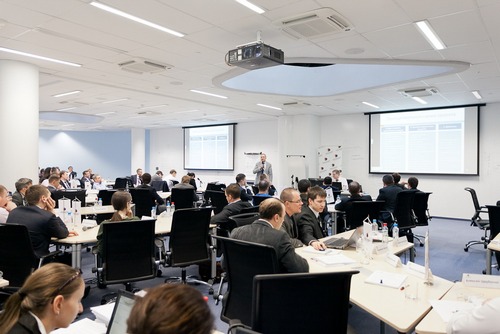 In total in 2013, 73 employees from different regions of Russia competed for the right to participate in the qualifying round of the Second integrated program «Leaders of changes-2».
On the first day of the qualifying round, participants were divided into eight project teams. The candidates had to develop and defend a pilot project aimed at improving the reliability and performance of the Russian electricity grid. The groups worked under the supervision of the board of moderators and external experts, including from the executive office of FGC UES and IDGC Holding. Teamwork allowed the participants to meet, to learn the potential of each other as members of a single management team, to assess the features of the main activities of the electric grid companies.
«Participation in the Second integrated program of the Moscow School of Management "Skolkovo"- this is a unique opportunity to acquire the knowledge and practical skills in the implementation of innovative projects,» underlines Vladislav Ostrik. «This is an opportunity to learn from colleagues from different structures of FGC UES, IDGC Holding in the area of ensuring reliable electricity supply, to expand your professional horizons and realize the scientific and creative opportunities that will make an even greater contribution to the development of the power industry.»
Vladislav Ostrik is the head of the project «Development and implementation of scientific and technical direction of the youth policy» of IDGC of Centre. As part of the activity of the «Coordinating Council of representatives of student self-government of partner universities of IDGC Holding and its subsidiaries» he developed the «Guidelines for cooperation of subsidiaries of IDGC Holding with partner universities for target training of specialists», and worked to assess the level of such cooperation. In 2012, Vladislav Ostrik was included in the personnel reserve of the «Young support of IDGC Holding».
The educational project «Leaders of changes» aimed at improving professional training started in July 2011. The practical result of the program was the development by its members in 2012 of projects in the main activities of FGC UES and the formation of a strategic talent pool of the energy company. The program «Leaders of changes-2» takes place in the framework of a common policy in the field of training staff of electric grid companies and supervised by top officials of Federal Grid Company.