22 January 2013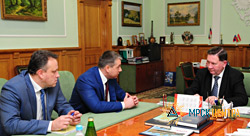 In Kursk, a working meeting of Acting Director General of IDGC of Centre Oleg Isaev with Governor of the Kursk region Alexander Mikhailov took place. The parties discussed prospects of further development of the power grid, as well as the company's policy priorities, plans and objectives for the current year.
Thus, the main topics of the meeting were the construction and modernization of energy facilities, ensuring the development of power grid in the Kursk region. During the constructive dialogue the activities of the Kursk branch of the company were discussed to promote the attraction of investors to the region by increasing capacity and providing grid connection of large agribusiness companies.
Oleg Isaev underlined that as the head of the leading electric grid company intends to pursue the policy of work, focusing on the needs of the region and contributing to the process of its economic and social development through reliable power supply in all spheres of life of the population.
Governor of the Kursk region Alexander Mikhailov, for his part, expressed hope for further fruitful mutually beneficial cooperation to increase the investment attractiveness of the region.
An important topic of the discussion was also the problem of late payment to retail companies for the electricity delivery. In connection with this the management of IDGC of Centre and authorities of the Kursk region expressed their desire to join forces to develop possible solutions to the situation of non-payment.