4 January 2013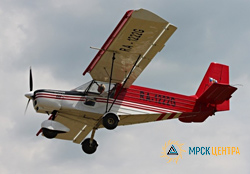 IDGC of Centre continues to attract the forces of small aircraft to get information about the state of power lines and ROWs. To this end, experts of IDGC of Centre fly over with airplanes and inspect power grid facilities. First, power engineers evaluate the results of ROW clearing along power lines.
During the long New Year holidays the state of power lines is being checked in the Lipetsk region. Specialists of IDGC of Centre — Lipetskenergo division had a flyover with a light airplane SP-30.
During the aerial surveillance 314 km of power lines were examined: two overhead lines of 110 kV "Usman", 110 kV "Verbilovo" and three 35 kV conductors "Usman-Traction", 35 kV "Negachevka" and 35 kV "Lozovka". Particularly close attention was given to the most remote and hard to reach power lines passing woodland. The survey found that the exclusion zones of the power lines are aligned with the regulatory state — within them arrangements for clearing and expansion of ROWs along the power lines have been made, there are no areas with threat of falling trees and unauthorized storage of waste.
Aerial surveillance significantly reduces the time of scheduled inspections of power lines on the status of exclusion zones. "To check the status of about 300 km of lines by land we would need a week, and from the plane we were able to do it in one day. In addition, flights over are extremely effective in determining the accident-prone locations and damaged lines associated with falling trees on wires. An important advantage of this method of survey is the high level of visualization of facilities and photograph tracking of ROWs along power lines," — stressed Deputy Director for Technical Issues — Chief Engineer of IDGC of Centre — Lipetskenergo division Alexander Kornilov.
Previously, such inspection overflights took place in the Tambov, Bryansk and Kursk regions. Based on the results the ROW clearing and expansion program was adjusted in connection with the discovery of accident-prone places on the lines connected with threatening trees.
Branches of IDGC of Centre will continue to apply the practice of the aerial surveillance for the rapid assessment of the state of conductors both in a scheduled manner and during interruptions due to bad weather conditions.