20 December 2012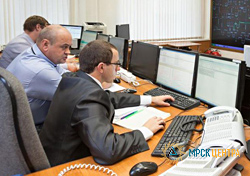 On the site of Rudnyansky district of the Smolensk region a regular joint training was held for emergency response to the threat of a power outage for consumers in low temperature conditions. It was attended by power engineers of FGC UES — Bryansk PMES, IDGC of Centre — Smolenskenergo division, SO UES Smolensk TCC.
According to the "legend" of the training, as a result of weather conditions in the form of wet snow, wind up to 18 m/s, sudden changes in temperature from 0 to −10°, the Conductors 110kV Rudnya-Liozno and 110 kV Golynki-Rudnya (Conductor-114 ), as well as the substations 110/35/10kV Rudnya and 35/10kV Lubavitchi were interrupted.
The power engineers worked out their actions in the operation mode with high-risks: there were conditions observed to decrease in reliability, complex energy mode, occurrence of emergencies of industrial character. The main purpose of the training was working out a clear interaction between all branch employees of energy companies, local authorities of the town of Rudnya and Rudnyansky district, and checking the readiness of the operational headquarters of energy companies in an event of industrial accidents and departments to carry out tasks to eliminate abnormal power system operation modes. The power supply of the conditionally interrupted areas was to be restored as soon as possible.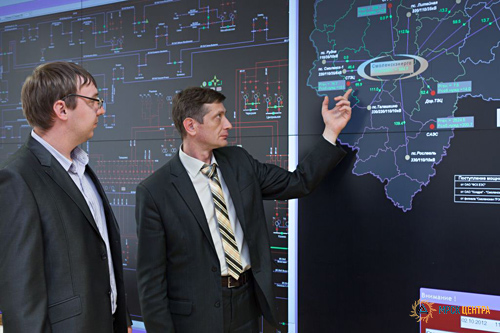 The power engineers efficiently exchanged information on the state of transmission and distribution networks, the number of mobilized crews and special vehicles, availability of an emergency reserve of electrical equipment and started to implement emergency measures to prevent and reduce the impact of negative weather conditions at power facilities. So, to eliminate the conditional icing on wires and ground wire of overhead power lines and sleet sticking to them the power engineers engaged schemes of ice melting. This allowed the whole electric grid in the region to continue operating.
First of all steps were taken to restore the supply of social and critical facilities: schools, kindergartens and hospitals. Mobile diesel power plants were used for this.
According to the results of the training the actions of all personnel were recognized as professionally competent and responsive, the high coordination of energy enterprises and high readiness of management and staff of energy companies to isolate and quickly eliminate incidents and accidents in the power system were marked.