7 December 2012
In the Orel region the work to commission new generating equipment of Livenskaya GT CHP is under completion, the grid connection of which is being performed by IDGC of Centre — Orelenergo division. By now the scheme of power supply of a new unit of 30 MW has been successfully tested. A double-circuit cable line of 110 kV "Livenskaya CHP — Livny" with its length of more than 500 metres has been commissioned.
During the construction of the power grid infrastructure of Livenskaya CHP power engineers of IDGC of Centre used innovative technologies, which had not been applied before in the Orel region. In particular, it is steel multifaceted poles, more reliable and durable than traditional concrete poles that can withstand maximum load with build-up of snow and icing. The service life of such poles is not less than 25 years, with the fact that the technical inspection of the entire line will be required no more than once a year. The height of steel poles can increase flights of power lines. In this case, the technical characteristics of the line do not get worse, and its cost can be reduced by almost 2 times.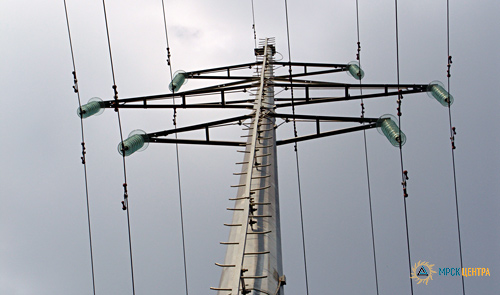 In addition, primary and back-up protection of the cable and overhead line, frequency load shedding and 110 kV stuck breaker protection were used at the Livenskaya GT CHP.
For the first time in the power complex of IDGC of Centre — Orelenergo division on the lines of 110 kV the technology of overhead and cable connections was used: the cable line is connected to the overhead power line of a length of 1.8 km through special couplings installed on an anchor pole of 110 kV.
Currently the synchronization scheme of the GT CHP and operation in parallel in both circuits has been tested. In the coming days, the equipment of the CHP will be tested under load with continuous monitoring of electrical parameters, temperature and vibration condition for 72 hours.
The reconstruction project of the Livenskaya CHP in the Orel region has great social importance for the entire region. This project will allow to remove the shortage of electric power in several areas of the Orel region, to improve the reliability of electricity supply of the Lievensky industrial hub and provide grid connection of new consumers.