7 December 2012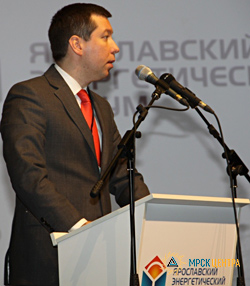 Within the Third Yaroslavl Energy Forum, which opened on December 4, an international research and practice conference "Energy efficiency and conservation — the regional aspect" was held. Leading Russian companies presented their innovations in solving regional problems of energy efficiency at it.
Deputy General Director for Economics and Finance of IDGC of Centre Konstantin Orlov was as a speaker at the conference.
Application of innovative solutions in the industrial activity is the main driving force of development for IDGC of Centre. At present, the company has approved a program of innovative development up to 2016. It aims to improve business processes, increase efficiency, and large-scale modernization.
Today IDGC of Centre is executing four large-scale projects for the implementation of innovative systems, more than twenty scientific research works are being developed to address specific technical and managerial tasks.
For several years already the company has been implementing the program "Smart City", which involves the creation of "smart" grids of outdoor lighting and an automated metering system. "Smart" meters will allow to reduce losses and to control the quality of electric power, and "smart" grids — to improve the quality of power supply by the use of reclosers, boosters and other innovative solutions.
IDGC of Centre is one of the first in the Russian power grid that has fully implemented its resource management system based on SAP ERP, which allowed based on modern IT-technologies to create a single database that contains information about the operating equipment, electricity consumers and their connection points to networks of distribution grid companies, parameters characterizing the technical condition of the equipment, and costs of repair performance.
As part of the innovative development program IDGC of Centre is implementing its automated system of operational and technological management of grids (DMS) and outage management (OMS). The company has started to implement typified projects of constructing networking of 10-0.4 kV with the use of pole-mounted transformer substations. As a result of it the issue of grid connection of new customers in expanding settlements is being solved successfully.
Within the Energy Forum in Yaroslavl the conference "Contribution of the youth in solving practical problems in the modernization and development of the energy infrastructure" has also been opened. One of its main events was a visiting meeting of the Coordinating Youth Council under the President of the Russian Federation. In their speeches its participants raised the topic of cooperation between science and business, creating innovative centres at higher educational institutions, as well as a number of applied energy research issues.
"The modern economy makes new challenges and relevance of a larger approach to innovative work is obvious, — underlined Konstantin Orlov. — IDGC of Centre has an intention to actively involve young scientists and specialists into it. These are the objectives set by the country's leadership, and this has been noted many times in the framework of the Coordinating Council under the President of Russia."