5 December 2012
The Third Yaroslavl Energy Forum "To modern economic structure — modern innovation infrastructure" has started. The Forum is the largest networking site for discussion and solution of problems of developing energy infrastructure and increasing energy efficiency in the regions.
The forum program provides for scientific conferences, round tables and exhibitions. The workshops are attended by representatives of the federal authorities, the leaders of the subjects of the Russian Federation and local governmental officials, public organizations and associations, representatives of business, scientific and professional communities, and public figures of Russia.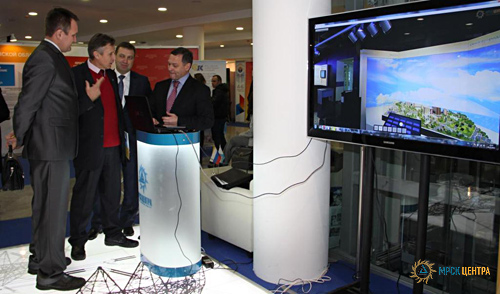 IDGC of Centre within the exhibition "Energy Efficiency — the regional aspect" presents its achievements in the field of energy conservation and energy efficiency: the installation of a street lighting system using innovative equipment, implementation of an automated electricity metering system with smart meters, etc. The company's booth presented achievements of OJSC "Energy Service Company" (a wholly-owned subsidiary of IDGC of Centre) in the area of ​​the energy audit, the provision of energy services. The activities of the Centre of innovation and energy efficiency, created in Yaroslavl in 2011 in collaboration with the Administration of the Yaroslavl region, are also being highlighted. One of its main objectives — promoting the innovation strategy of IDGC of Centre.
The visitors at the booth paid particular attention to a virtual centre of energy efficiency. It is an interactive system that allows you to choose energy-efficient technologies for each specific customer.
At the initiative of IDGC of Centre at the forum an interregional online conference was held on the role of young scientists in the innovation process. It was attended by the Minister of Education and Science of the Russian Federation Dmitry Livanov and members of the Coordinating Council on Youth of the President of Russia.
On the first day of the forum for its guests a tour was provided by IDGC of Centre — Yarenergo division to the Museum of the History of Yaroslavl grid. Another event of the first day was the awarding of the winners of the children's drawings contest "Our warm house".