30 November 2012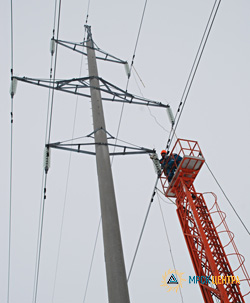 IDGC of Centre is sending four mobile crews to the Pskov region for restoration operations at power facilities of the branch of IDGC of North-West — Pskovenergo.
One mobile crew of Smolensk Distribution Zone consisting of 5 persons has already moved from Smolenskenergo. The crew is fully equipped with resources and tools for filing and trimming trees, clearing ROWs along power lines. The branch has sent one hydrolift to work on clearing. To be able to work in the dark the power engineers will be using a light platform. The crew is moving by a MAVR vehicle — an off-highway service and repair facility vehicle. In the multi-van of the vehicle there are bays not only for the equipment and tools, but seats (including sleeping) for recreation of the crew, taking meals, heating and ventilation systems are installed.
18-00 on November 30 other three crews will move to the Pskov region: one crew from Navlinsky Distribution Zone of Bryanskenergo and two crews from Yarenergo. They are fully equipped with communications equipment, spare sets of winter clothes and food.

December 1 morning the crews will arrive at the place and begin restoration.
Please, be reminded that IDGC of Centre in total created 90 mobile restoration crews totalling 519 people. This is a special mobile group of forces and means, formed of highly qualified workers who have received additional training. "Energy SWAT" is able to quickly move to any region and quickly begin work on the restoration of power supply.