30 November 2012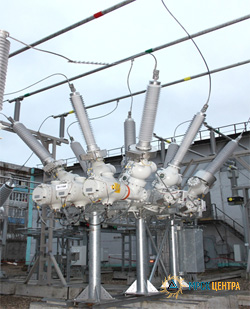 IDGC of Centre continues its system work on implementing most advanced, low-maintenance and safe equipment for reconstruction and new construction of power facilities.
Thus, in the reconstruction of the substation 110/10/6 kV "Central" in the city of Kostroma gas-insulated monoblock units were used. The substation is a key energy facility that feeds the central part of the city with a population of about 100,000 people. Large-scale reconstruction, which is performed in order to increase reliability of power supply, provided for the change of the primary circuit of the substation with commissioning of additional equipment. But the power facility is located in the centre of Kostroma, in limited circumstances of residential and industrial buildings, with numerous intersections of engineering structures, so expanding the premises of the substation to install additional equipment was impossible.
One of the solutions was to use two gas-insulated monoblock units with a modular design and combining in a single unit a power switch, one or more disconnecting and earthing switches, current transformers, as well as bushings which are connected to one or two busbars. Along with this the area occupied by the module is only 17.4 m2. Besides the advantages of the new configuration of the equipment, experts mark the simplicity of its installation in the field, with minimal impact of its operation on the environment, reduction of maintenance costs over the life cycle of the substation.
It is also planned to install two of these monoblock units in the substation 110 kV "Novoselki" in the city of Yaroslavl, whose construction has begun in the autumn of 2012.
The implementation of this equipment will allow to implement the required scheme in the existing premises of the substation, which would be impossible to implement with the use of separately installed equipment.