27 November 2012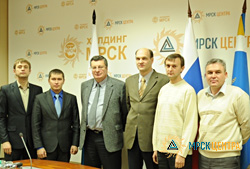 Managers of LLC "Bashkir power distribution grids" (LLC "BashRES") were in IDGC of Centre with a working visit.
In the executive office they became acquainted with the experience of implementing the resource management system of IDGC of Centre platform based on SAP ERP. The guests paid special attention to the production asset management system: IDGC of Centre — the only Russian power grid company, which implemented similar functionality in its entirety. With this system IDGC of Centre based on modern IT-technologies created a single database that contains information about operating equipment, electricity consumers and their points of connection to networks of distribution grid companies, parameters characterizing the technical condition of the equipment, cost of repairs, as well as regulatory and technical documents.
To date, the enterprise information resource management system based on SAP ERP has entries of 14,800,000 pieces of equipment, 24 million functional locations, 14.4 million measurements, 69 thousand reports of defects, and 5.5 thousand specialists work in the system. It should be noted that for the third year IDGC of Centre — for the first time in the Russian power grid — has been forming its program of repair and maintenance of electrical equipment based on its technical condition, impact and probability of failure.
The colleagues of LLC "BashRES" also learned the functionality of management of mobile crews, which allows to remotely record results of diagnostics and inspection of electrical power lines with mobile devices with further synchronization of the received data in the SAP ERP system.
"Our interest to such functionality is due to search for effective forms and methods of repair, — stressed Head of Production and Technical Department of LLC" BashRES" Vadim Makarov. — We are aware of the urgent need to move from planned and preventive maintenance. The experience of IDGC of Centre, constantly implementing new technologies, was very useful for us. We are grateful to the colleagues for the nice reception and fruitful cooperation."
The representatives of LLC "BashRES" visited IDGC of Centre — Belgorodenergo division and got acquainted with experience of implementing the SCADA complex, multi-display system, and electronic logging. The delegation was presented the results of the implementation of the pilot project DMS/OMS system based Telvent DMS software. This system allows specialists to quickly locate a fault of electrical equipment, isolate an incident and restore power supply to customers, continuously monitor the voltage and other parameters of the grid and simulate its operation modes, and plan the grid development. In addition, the DMS/OMS system provides an opportunity to reduce the risk of failures and to minimize losses as much as possible if they are inevitable.