24 October 2012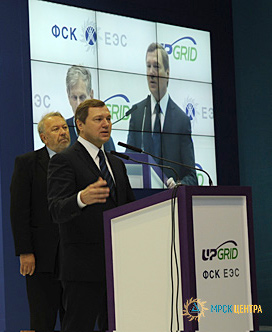 October 23, 2012 in the International Exhibition Center "Crocus Expo" in Moscow, the grand opening of the first International Grid Forum UPGrid "Electric grid complex. Innovation. Development" took place, organized by FGC UES supported by the Ministry of Energy of the Russian Federation.
The Forum is intended to demonstrate breakthrough technologies that create new markets and new product categories that allow to perform large-scale modernization of existing networks, and to develop dialogue between the state, fundamental and applied sciences, design institutes and industry to identify the most promising areas of the grid complex of Russia.
The ceremony was attended by Chairman of the Management Board of FGC UES Oleg Budargin, Members of the Russian Academy of Sciences Philipp Rutberg and Vladimir Fortov.
In his opening speech, Oleg Budargin congratulated everybody with the opening of the International Grid Forum UPGrid and noted that Federal Grid Company is doing everything to be at the forefront of change, to become an active participant in this process, to generate smart energy infrastructure necessary for sustainable economic growth. "For the last three years we have managed to do a lot, in particular almost twice reduced the number of unavailable power supply centres, we are reducing costs, our network has been renewed by 2%, we are increasing power lines at 3% and it is a lot across the country," — he underlined.
A joint delegation of FGC UES walked around the exhibition, during which exhibitors demonstrated dignitaries advanced technologies and solutions, including the elements to create a smart grid.
The events of the first day of the forum were attended by General Director of IDGC of Centre Dmitry Gudzhoyan. He noted that the theme and focus of the exhibition is close to IDGC of Centre, since a lot of attention is paid to implementation of innovative technologies, upgrading electric grid facilities. That's why experts of IDGC of Centre will actively participate in round tables, as well as discussions and presentations that will be held at the International Grid Forum.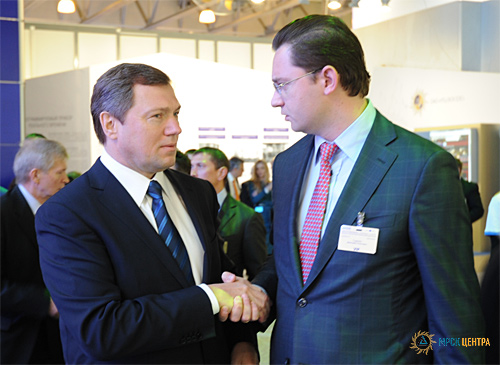 About 200 leading Russian and international companies presented their achievements, including ALSTOM GRID, CISCO, HYUNDAI HEAVY INDUSTRIES Co., TOSHIBA, LLC "EC" Bresler "VNIIR ("ABS Power"), OJSC "STC FGC UES", SIEMENS, ABB, LLC SPE "EKRA", 3M, OJSC "Electrozavod", RTSoft, OJSC "EMZ", OIVTRAN, Phoenix-88, OJSC "ZETO", LLC "Togliatti Transformer", ZAO "GC 'Electroschit'- TM Samara", etc.
On the first day of the forum a panel discussion was also held on "Grids of the Future: New Horizons of New Energy": there was discussion of the most pressing issues and innovative programs of Russian and foreign energy companies.
As part of UPGrid 2012 there will be meetings of sections held on topics of developing energy efficiency, improving technologies used to create electrical equipment, relay protection and automation, control systems and telecommunications for intelligent networks, etc.