18 October 2012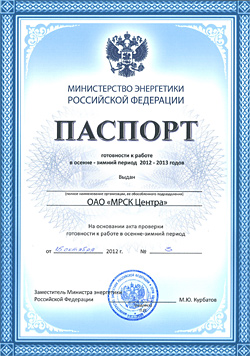 Today, October 18, IDGC of Centre received its certificate of readiness for the autumn-winter operation period 2012 — 2013. The certificate was issued without comments.
The certificate of readiness was handed over to General Director of IDGC of Centre Dmitry Gudzhoyan by Chairman of the Commission, Deputy Director of Power Development Department of Ministry of Energy of Russia Leonid Neganov.
"The Commission has checked all the power facilities in the service area of IDGC of Centre and did not reveal serious irregularities in their operation. Based on the inspection I consider it possible to sign the certificate of readiness and issue the certificate without any remarks — underlined during the ceremony Leonid Neganov. — I would like to thank all the staff of IDGC of Centre for excellent preparation."
This year, IDGC of Centre got its certificate of readiness a month earlier than in past years, having fully implemented all the planned activities: emergency supplies are staffed at 100 percent (both central and branches'); 90 mobile crews are ready to work around the clock (provided with tooling, equipment for restoration, communications, winter clothing); fleet of special vehicles has been greatly enhanced, upgraded and modernized. The branches held joint exercises of power engineers of IDGC of Centre, MES enterprises of FGC UES, regional offices of EMERCOM, and representatives of authorities — prompt actions were practiced of all parties at a possible occurrence of disturbances at power facilities; the branches of IDGC of Centre have signed agreements with various entities for provision of small aircrafts for equipment diagnostics during the autumn and winter period, as well as to accelerate the delivery of restoration personnel to the site of technological disturbances.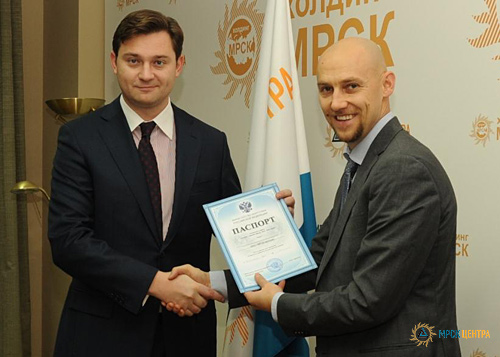 "Presentation of the certificate of readiness — an important event for the whole team of IDGC of Centre, — said General Director of IDGC of Centre Dmitry Gudzhoyan. — We have confirmed that we are fully prepared to work in winter conditions. We are faced with a big challenge — to prove that we are able to accept all the challenges of bad weather in the winter. I am sure the staff IDGC of Centre will cope!"