17 October 2012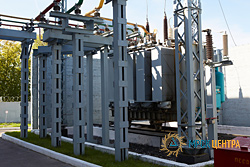 In the name of General Director of IDGC of Centre Dmitry Gudzhoyan a letter was received from residents of the settlement of Solka in Trubchevsky district of the Bryansk region. In it the residents of Bryansk thanked Head of IDGC of Centre and the staff of IDGC of Centre — Bryanskenergo division for ensuring a reliable power supply of the settlement.
Bryanskenergo received an application from one of the residents of the settlement of Solka to provide the service "Grid connection". In the course of its review it was found that the connection of the applicant's new facility to the existing mains would lead to a significant reduction in the quality of electricity for the previously connected customers. In this regard, in accordance with the requirements of the Regulation on grid connection, approved by Government Resolution # 861, the branch decided to construct a new overhead line and transformer substation. The construction of the overhead line and transformer substations was included in the investment program of the branch for 2012.
In September, in the settlement of Solka a 63 kVA transformer substation was installed and the construction of a 10-0.4 kV overhead line with a total length of 140 meters was completed. With the commissioning of the new equipment energy supply of houses of the inhabitants of the settlement improved significantly. In addition, the total capacity of the new transformer substation allows connection of a number of facilities.
Residents of the settlement of Solka note in their letter: "Our settlement is located in a wooded area and access to it because of the bad roads, which run in the flood plain of the Desna river, at any time of the year is difficult. During floods, winter drifts, autumn long lasting rains we are practically cut off from the world. The situation is complicated by the fact that the line passes to us through two water hazards — the Desna River and a lake. Therefore, if there is a sudden power blackout, then without light, with broken refrigerators and TVs we felt thrown back in time a hundred years. This year the ROW under the line was well cleared. A rather worn and broken package transformer substation was replaced with new, which gives us hope that there will be no power interruptions in our settlement any more. For it with all our heart we want to thank the power engineers, whose work makes our life brighter."