1 October 2012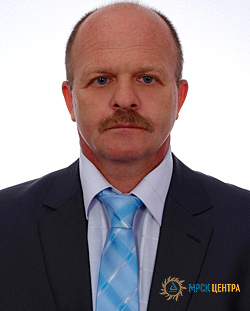 By the Decree of the President of the Russian Federation Vladimir Putin Electrical Fitter for repair switchgear equipment of Orelenergo Yury Potemov was awarded the honorary title "Honoured Power Engineer of the Russian Federation" for his great contribution to the development of the fuel and energy sector and years of diligent work.
Yury Potemov has devoted to the power industry nearly a quarter century. For many years he has been working in a crew, which serves 15 substations of 35-110kV. He is a good organizer, able to organize the work of the staff properly, significantly reducing time of repairs and maintenance. At the same time, Yury is able to create a comfortable psychological environment in his crew. Colleagues respect him for honesty, integrity, and correctness.
Largely due to the professionalism of Yury Potemov, his crew was recognized as one of the best in the reconstruction of the 110/10/6 kV substation "Western". Please, be reminded that it is one of the largest investment projects of IDGC of Centre.
Yury Potemov constantly works to improve his professional level, seeks to get new knowledge. For example, he further learned the profession of a slinger and a bucket operator.
In addition, Yury has been actively involved in the technical training of new workers, transfers the experience and expertise to the youth. Recently, he has trained four electricians for switchgear repair.
For his long and dedicated work Yury Potemov repeatedly won awards. Among his awards — a letter of gratitude of the Russian Ministry of Energy, a letter of gratitude of the governor of the Orel region, certificates of honour of Orel Oblast Council of People's Deputies.