26 September 2012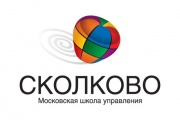 Specialists of IDGC of Centre had their training at the Moscow School of Management "Skolkovo" on the program "Integration of innovative development programs of FGC UES and IDGC Holding".
The main objects of study were the models and tools of the integration process in the enterprise, the formation and support of innovative culture.
As part of the program the representatives of the companies discussed common actions to promote innovation development strategy of FGC UES and IDGC Holding. The following objectives were identified: to create a single communication space in the area of ​​innovation management of FGC UES and IDGC Holding; diagnosis of innovative development strategy implementation in corporations: identifying gaps and success stories; benchmarking — analysis of best practices in innovation management in the international energy sector; increasing the skills of participants in the management innovation. In the near future, the participants of the session will have to make a plan for action in the short and medium term on the key joint areas.
For information:
The project of the Moscow School of Management SKOLKOVO is being implemented as part of the national project "Education". The Chairman of the SKOLKOVO International Advisory Board is the Chairman of the Government of the Russian Federation Dmitry Medvedev.
Since 2006 SKOLKOVO holds short educational Executive Education programs for senior and middle managers — open programs as well as specialized, developed integrated modules at the request of companies.
June 22, 2012 FGC UES and SKOLKOVO Business School signed an agreement on the organization of the relationship, which is aimed at developing long-term cooperation in the implementation of joint educational programs, organizing public forums and expert discussions, corporate development and project consulting. The document was signed by Chairman of the Management Board of FGC UES Oleg Budargin and President of SKOLKOVO Business School Andrey Volkov.
The Parties will cooperate in the development and implementation of programs for staff development of FGC UES, including for innovation activity implementation, consulting in the field of corporate development of the Federal Grid Company, development of innovative environment and "smart power". FGC UES and SKOLKOVO Business School will also cooperate in the implementation of joint scientific research activities in the field of business, management and economics.