6 July 2012
Team of the executive office of IDGC of Centre took part in the corporate mini-football tournament "Summer Cup of Capital Business Series", which was held in the Olympic complex "Luzhniki" (Moscow). The Cup was held for the third time.
The competition involved 16 teams, who represented the corporation "Adidas Group", "Video International", "North", "Gars Telecom", TV "Moscow 24" and others. They are all strong contenders for the team of power engineers of IDGC of Centre. Despite this, the Company's football players showed a decent spectacular game and won second place in the silver playoff.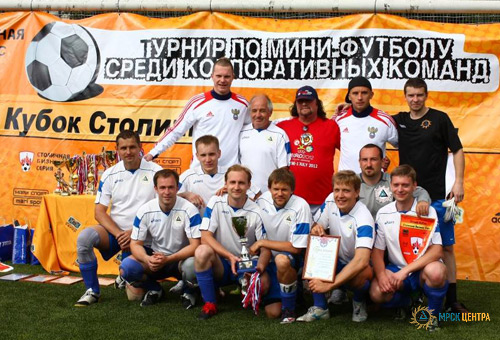 After drawing the lot all the participating teams were divided into four groups, two best of which went to the gold playoff, the other determined the winners in the silver playoffs. IDGC of Centre joined the group "D" and played with the corporate teams of "Imagine Estate", "R-Pharm", and "Prokonsim".
All the tournament matches were very hard to play, two halves of 10 minutes were given to the teams to identify the strongest. This time limit helped morale of players who did not lose time on the warm-up.
According to the judges and spectators, the team of IDGC of Centre demonstrated a nice game, and by the number of points it could claim a place in the gold playoff.
But our football team did not get only one ball to the victory — that was the difference between goals scored and conceded.
As a result of intense football matches the team of the executive office came into the "silver series" and won second place. The best scorer of the team of IDGC rightly was Dmitry Meneylyuk, Head of property management and consolidation of power grid assets Department of IDGC of Centre, who scored 6 goals.
"Football in IDGC of Centre — it is, above all, friendly atmosphere, team spirit and excitement of the competition — stresses a member of the corporate team, Victor Ablezgov, Advisor to General Director of IDGC of Centre. — Sport can better than anything else unite a team and give an excellent opportunity to express oneself. Participation of the Company's team in the sports business league strengthens the Company's image, and external corporate communications are actively developed in competing conditions".
Awarding the players was conducted by players of the Russian national team, honoured masters of sports, world and European champions, Intercontinental Beach Soccer Cup Holders Andrey Bukhlitsky and Anton Shkarin.