29 February 2012
In 2012, Rostov the Great in the Yaroslavl region will celebrate its 1150th anniversary. Power engineers of IDGC of Centre are also taking part in the preparation for the anniversary: specialists of Yaroslavl branch of the Company will perform a repair campaign, will connect commemorative facilities of the city to their grid and construct new street lighting lines in it.
Rostov the Great is one of the oldest Russian cities. It was first mentioned in 862. In XI-XII centuries it was a central city of northeastern part of Russia. Rostov is the largest religious center. Museum-Preserve "Rostov Kremlin" is included in the state register of the most valuable cultural heritage of the peoples of Russia. Modern Rostov the Great is a city with large food industry, instrument making and jewelry.
The Company's specialists will perform repairs for the amount of 2.3 million rubles in Rostov, in the settlement of Porechye-Rybnoye and village of Ishnya. 4.1 kilometers of overhead power lines of 0.4 kV, 5.2 kilometers of cable lines of 10 kV and three transformer substations will be repaired.
Power engineers will provide connection of social facilities to the grid in Rostov the Great, construction of which is being made in preparation for the anniversary of the city. The largest of these is the City Center for Youth and Sports, in which a stadium will be located. The customer contract demand is 275 kW. For its connection a transformer substation of 10-0.4 kV will be constructed.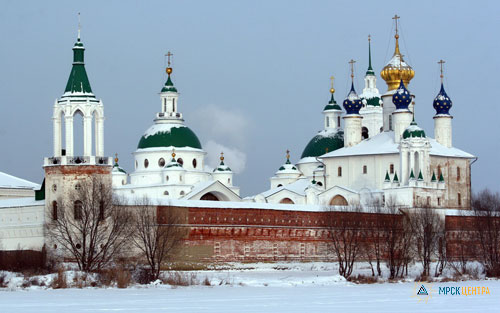 In 2011 specialists of IDGC of Centre began construction of new street lighting lines in the city. In the anniversary year such lighting will be on the streets Proletarian, Stone Bridge, County, Lenin, Soviet space and Yaroslavl highway. Power engineers will install 140 poles and 140 lighting fixtures with more efficient sodium lamps, will install 6.1 kilometers of self-supporting insulated wire, will make necessary crossovers and file tree.
"Any major event in the regions where the Company operates, especially of historical significance — it is a big responsibility for the power engineers. We provide technological connection of social facilities, perform reconstruction and repair of electric grid facilities, we ensure reliable power supply for important events. By the time of the anniversary of Rostov, we will have to do some serious work. Its result will be a gift of the power engineers to this ancient, beautiful city, its residents and visitors", — stressed Deputy General Director for Technical Issues — Chief Engineer of IDGC of Centre Sergey Shumakher.