31 October 2011
IDGC of Centre has received its Certificate of readiness for use in the heating season 2011/12. The inspection certificate of the company's readiness was unanimously signed by all members of the committee, which included Heads of IDGC of Centre, Ministry of Energy of Russia, RTN, IDGC Holding TCC branch of SO UPS and the Ministry of Emergency Situations of Russia.
Summing up, the committee's chairman, director of operational control and management Department in the utilities industry of the Ministry of Energy of Russia Alexey Stepanov said: "Today we see the good result of work of the entire IDGC of Centre. We believe that the Company is prepared and ready to operate in harsh winter".
General Director of IDGC of Centre Dmitry Gudzhoyan thanked all the committee members for their work and noted that this year's preparation was given the highest priority. We reviewed the last year's experience of "freezing rain", which affected some administrative districts of Smolensk and Tver regions. These findings were taken into account in the formation of programs to improve the reliability of the electric grid.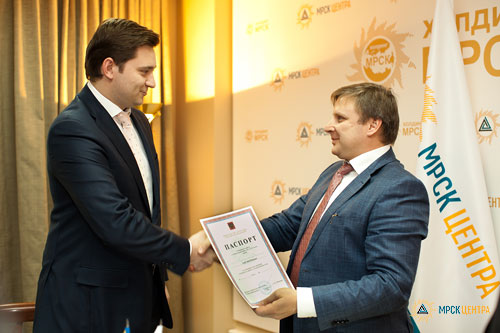 The main activities of the preparations for the autumn-winter peak loads were: implementation of maintenance and investment programs, ROW expansion and clearing along power lines, preparation of equipment for operation at low temperatures and training. Particular emphasis this year was focused on ROW expansion and clearing — the volume of this work increased by 1.5 times. The repair and investment programs were implemented by 100%. 2714 measures intended to prepare for the upcoming peak load have been implemented in full before the deadline.
The reserve stock of IDGC of Centre is equipped in full. "We exchanged information about the emergency reserve stock with all IDGCs and the Federal Grid Company. If necessary, our utilities colleagues from other companies can rely on our emergency supply, just as we do on them,"- said Deputy General Director for Technical Issues — Chief Engineer IDGC of Centre Sergey Shumakher.
For the prevention and elimination of massive technological failures in the electric grid some agreements on cooperation with the subsidiaries of IDGC Holding and local grid companies have been signed.
"IDGC of Centre in preparation for the winter has done its best to provide our customers with reliable and quality power supply", — said Sergey Shumakher.