3 October 2011
A joint Gathering of leaders of student groups of universities — partners of IDGC Holding and leaders of youth councils of inter-regional and regional electric distribution grid companies of Russia was held in Moscow. HR Director — Head of HR and organizational design department of IDGC of Centre Alexander Lyaskin presented a concept of a unified youth policy in distribution electric grid utilities at this event.
The Public Council of Universities — partners of IDGC Holding was established at the Gathering, which includes students, young teachers and graduate students from 15 universities. Deputy Chief Engineer for operations of IDGC of Centre — Tverenergo division Vladislav Ostrik became Deputy Chairman of the Council. The main purpose of the Council is to expand and deepen cooperation of IDGC Holding with higher education community, the professional orientation of students, the development of creative and scientific potential of students, involvement of promising young professionals into the Electricity Distribution Complex of Russia, whose education meets the highest international standards and requirements of current and future power industry.
"The idea of establishing the Council is due to the fact that IDGC Holding considers young professionals as a strategic resource for development of the electric distribution grid utilities and the whole complex of Russian power industry — said Director of Information Policy and Communications of IDGC Holding, Deputy Head of Research Department 'Security issues of fuel and energy industry' of Academy of Military Sciences Alexander Uzhanov. — Therefore, we intend to create conditions for attracting and keeping young people in companies of IDGC Holding, to promote their career growth and creative activity".
During the event a round table discussion was held on "Youth Policy in the companies as a factor in unlocking the creative potential of young professionals", which was attended by Alexander Lyaskin. He stressed the need to develop innovative ideas within each company, among its staff, as well as among students of industry specialties.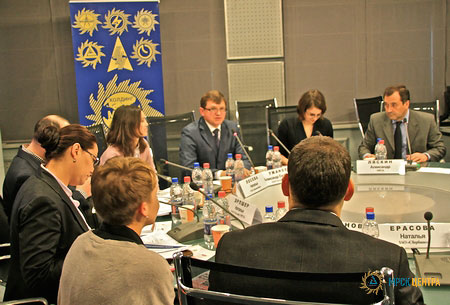 "The result of collaboration of IDGC of Centre with universities and secondary schools is clear: more and more students stay to work in places where they have their practice. Our goal is to accelerate the process of adaptation of new skills, identify organizational skills, professional and personal qualities of graduates. At the same time IDGC of Center provides self-training for specialties that are lacking in certain subdivisions. Recruited young professionals that possess the potential to further work in the company have their skills improvement training. Thus, investment in education of their employees makes it possible to prepare professional human resources that meet the company's goals and objectives", — said Alexander Lyaskin.
The main task in the field of personnel policy, which is implemented in IDGC of Centre in 2011, is to support young workers in their studies of scientific and technical creativity, innovation and inventiveness. A striking example of the realization of this task is the opening of the Youth Innovation Centre (YIC) in Yaroslavl division of the company.