22 September 2023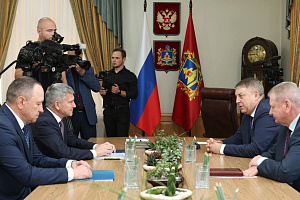 Governor of the Bryansk Region Alexander Bogomaz and General Director of Rosseti Centre, PJSC Igor Makovskiy held a working meeting, the most important topic of which was the preparation of Bryanskenergo for the upcoming heating season.
It was noted that the Bryansk branch of the Company is fulfilling the planned program to prepare for the autumn-winter period in a timely manner and in full.
In continuation of the joint events, the heads of the region and the energy company visited in the Bryansk regional hospital an electrician of the first responding mobile crew of the Klimovsky Distribution Zone of Bryanskenergo Alexander Repich, who was injured while performing his job duties and is currently undergoing treatment.
Alexander Repich has been working at Bryanskenergo for more than 20 years, enjoys undisputed authority among his colleagues, has three children, and is a former combatant himself and a border guard.
For his courage and conscientious work, Alexander Bogomaz presented the power engineer with a certificate of honour from Governor of the Bryansk Region, and Igor Makovskiy - a badge "For professional excellence" on behalf of Director General of PJSC Rosseti Andrey Ryumin. The leaders wished a speedy recovery and congratulated the hero, who celebrated his forty-second birthday on the day of the visit.
"A truly difficult burden has now fallen on the shoulders of the power engineers, and they are fulfilling their professional duty with honour. It is important that in difficult times for the region, the specialists prove their unconditional readiness to help. Residents of the Bryansk region are proud of their fellow countrymen-heroes, like Alexander Repich," emphasized Alexander Bogomaz.
"Thanks to high professionalism, the highest degree of responsibility and courage, the power engineers successfully cope with their responsibilities in conditions of high risks in border areas. We are proud that employees like Alexander Repich work in our company. We look forward to his early return to the team," noted Igor Makovskiy.