5 September 2023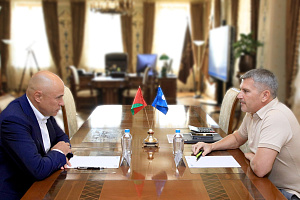 Igor Artamonov, Governor of the Lipetsk Region, and Igor Makovskiy, General Director of Rosseti Centre, PJSC - the managing organization of Rosseti Centre and Volga region, PJSC, discussed preparations for the heating season in the service area of the Lipetskenergo branch.
The head of the electric grid company noted that in the Lipetsk region preparations for the autumn-winter period are being carried out in a timely manner, in the normal mode. To date, the main stage of the repair program aimed at improving the quality and reliability of power supply to consumers has been completed.
Igor Makovskiy also spoke about the implementation of the investment program, the activities of which contribute to the development of the energy complex and the improvement of the socio-economic climate in the region.
Igor Artamonov, in turn, noted that thanks to cooperation with power engineers the investment potential of the Lipetsk region is growing and has a positive effect on the quality of life of the population of the region.
"With the participation of power engineers, a number of important projects have been implemented in the region this year alone. Connecting new industrial, social facilities, small and medium-sized businesses - all this requires close interaction and constructive dialogue. The Rosseti Centre company copes with its task at the proper level, which contributes to both reliable power supply to consumers and an increase in the investment attractiveness of the region," Igor Artamonov emphasized at the end of the meeting.
"The priority task of power engineers today is the completion of all planned activities to prepare for the heating season, as well as its reliable passage. The Lipetsk branch solves it confidently. Simultaneously with repairs, programs aimed at further development of the energy complex and, as a result, the Lipetsk region continue to be implemented," said Igor Makovskiy.